Company Profile
ANLY Electronics was founded on January 8th, 1971. After 50 years of support from our customers and dedication from our employees, it has achieved its leading status in the industry.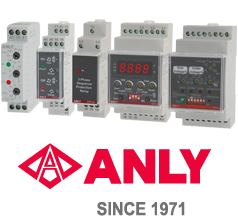 ANLY holds its core values of technology innovation and customer satisfaction to maintain the leading status in the 21 century. ANLY has been manufacturing the traditional automation components such as timer, counter, controller, floatless relay, relay, solid state relay, digital temperature controller. In addition, ANLY has answered the new demand in programmable timers and other industrial automated control components.
In the 21st century, ANLY recognized the needs for multiple functionalities in a compact size. Therefore, we expanded our reach to micro-controller based automatic control to our customers.
Due to the expanding sales and to better serve our customers, we have established five branch offices and one sales office::
Taichuang, Taiwan in August 1981.
Kaohsiung, Taiwan in October 1985.
Kowloon, Hong Kong in October 1988.
Kuala Lumpur, Malaysia in January 1989.
Shanghai, China in April 2001.
Jakarta, Indonesia in October 2019.
Due to its relentless strides in research and development, ANLY holds several international patents, CE certifications, UL and C-UL recognitions. In 1993, the IVTO (International Vocational Training Organization) chose ANLY products as the official products in WorldSkills Competition. In addition, ANLY was rewarded with ISO 9001 since 2002, solidifying in customers' confidence in ANLY. ANLY has also worked closely with many other internationally well-known corporations such as Hitachi, Taian, Tatung and many others.
Based in Taipei, Taiwan, ANLY's headquarter comprises R&D department, manufacturing facility, quality control, business administration, domestic sales, and international sales. To widen overall sales and to satisfy customers' needs, ANLY is actively developing and diversifying product range. Also, by employing the state-of-the-art automatic manufacturing techniques, ANLY ensures the highest quality in its products and provides the best service to our valuable customers.